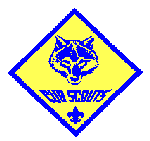 Cub Scouts
Pack 108
Mesquite, Texas
Welcome to pack 108's home page on the World Wide Web!

Cub Scout Motto:
"DO YOUR BEST"

Cub Scout Promise:
I,.., promise to do my best to do my duty
to God and my country,
to help other people,
and to obey the Law of the Pack.

The Law of the Pack:
The Cub Scout follows Akela.
The Cub Scout helps the pack go.
The pack helps the Cub Scout grow.
The Cub Scout gives goodwill.

Pack 108 Front Page News.
Well it's almost time to start another year! yep, that means School Night for Scouting is around the corner. We need your help for the Rallies and Sign-up night. anyone wanting to help please contact the Comittee Chair Miss. Debbie. Rally for Moss will be Monday August 28th.at 2:00pm Sign-Up Night will be Tuesday the 29th. at 7:00pm. Rally for Black will be Wednesday the 30th. at 7:50am with the Sign-Up Night on August 31st. at 7:00pm.
There is a lot going on! Many chances for each and every boy to be involved. Please don't miss out on all this fun! Mark your calendar now!!! If you have any questions, ask your Den Leaders! See you there!
Be sure to check out the Newsletter Page for the latest changes in times and dates of Events!!

Our Den Pages:
Tiger Cubs

Pack 108 Newsletter and Current Events
Pack 108 Photo Album

Need a Map?

Need a Form?
Click Here.

Links to Scout groups.
Pack 114 Fort Calhoun, NE
Pack 590 Lilburn, GA
Pack 20 Fairbanks, AK
Pack 835 Chapel Hill, NC
Pack 187 Amarillo. TX
Pack 828 Sugar Land, TX
Pack 46 Houston, TX
Pack 693 Dallas, TX
Pack 399 Arlington, TX
Pack 92 Flower Mound, TX

Other Scouting information.